Resources
---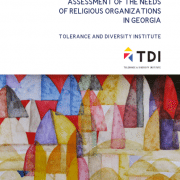 Based on interviews with up to 70 representatives of 33 religious organizations in Georgia, this study identifies the challenges and needs of religious organizations, cases of violations of the freedom of religion and evaluates the state policy and practice in this regard. Furthermore, this research offers specific recommendations to the state institutions; the implementation of which […]
Read more
---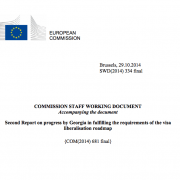 This document is the second Progress Report on the implementation by Georgia of the Visa Liberalisation Action Plan (VLAP). It provides a detailed analysis of the most relevant developments relating to the implementation of the so-called first phase VLAP benchmarks concerning the policy framework (legislation and planning). It also includes an assessment of possible migratory […]
Read more
---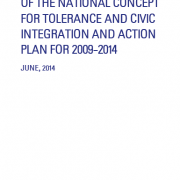 The National Concept for Tolerance and Civic Integration is based on the Constitution of Georgia, as well as Georgia's international responsibilities. In order to assure a broad public consensus, all interested parties were given the opportunity to participate in the process of developing the Tolerance and National Integration Strategy and Action Plan. The document was […]
Read more
---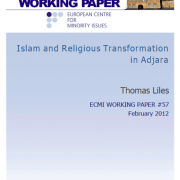 The Autonomous Republic of Adjara, located in the southwest corner of Georgia along the Turkish border, has been the scene of a peculiar religious transformation in the last two decades. Specifically, large segments of Adjara's traditionally Muslim population have undergone a relatively quick rate of conversion to Christianity. Whereas the region's population was predominantly Muslim […]
Read more
---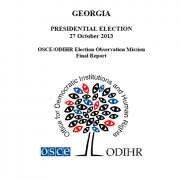 Following an invitation from the Ministry of Foreign Affairs, the OSCE Office for Democratic Institutions and Human Rights (OSCE/ODIHR) deployed an Election Observation Mission (EOM) on 19 September to observe the 27 October 2013 presidential election. The OSCE/ODIHR EOM assessed compliance of the electoral process with OSCE commitments and other international standards for democratic elections, […]
Read more
---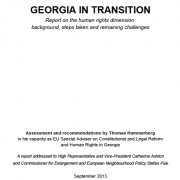 The Introduction of the report gives brief summaries of the main concerns and reflections  of the EU Special Adviser on Constitutional and Legal Reform and Human Rights in Georgia. The body of the report goes deeper into seven key areas in relation to human rights: judiciary, penitentiary, law enforcement, minority rights, political participation, freedom of […]
Read more
---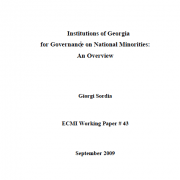 This paper aims to discuss the institutional set-up around civil integration and minority protection issues in Georgia since the 'Rose Revolution', and the study reviews the state structures relevant for governance and legislative practices on civil integration and minority issues. It seeks to provide an overview of the institutional problems that beset civic integration by […]
Read more
---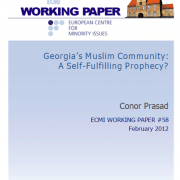 The principle objective of this paper is to examine the creation of the new Administration of Georgian Muslims; how and why it has been created and what its specific role, function and means of operating will be. Most importantly, it will examine how the administration has been received by Georgia's Muslims and how it will […]
Read more
---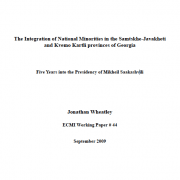 This paper aims to explore the extent to which national minorities in the Georgian provinces of Kvemo Kartli and Samtskhe-Javakheti are integrated into the economic and political life of Georgia and to investigate how government policy in the aftermath of the Rose Revolution of November 2003 has affected the relationship between the state and minority communities […]
Read more
---
Members
Сivic Integration Foundation (CIF) is a non-governmental, non-profit and nonpolitical organization committed to promotion of civic integration, human rights and civil society. CIF is a leading NGO institution in Georgia in the field of civic integration and minority rights protection. The goal of the foundation is to support integration of ethnic minorities who live on […]
Read more
---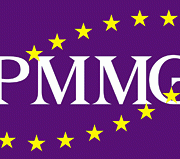 Public Movement "Multinational Georgia" (PMMG) – civil movement which has been created in year 1999 uniting citizens of Georgia representing different ethnic, religious, and linguistic groups residing in Georgia. PMMG – is umbrella organization which provides resource support and cooperates with the representatives of the more then 18 diaspora and 56 grass-root NGOs working in the field […]
Read more
---
The Assyrian International Congress of Georgia was founded in 1992. The congress actively participates in life of the Assyrian people. Its primary goal is to keep and develop the mother tongue, traditions and culture.
Read more
---
The foundation supports the integration of ethnic minorities in the territory of Georgia. The aim is to strengthen their civic and political participation in public and political life of Georgia to ensure that all citizens of Georgia realize their  rights and obligations according to the international standards and the Georgian constitution.
Read more
---
ECMI has been operating a Caucasus office based in Tbilisi since 2003 where it works towards building stable and inclusive democracies throughout the region, particularly in Georgia. ECMI Caucasus works to improve the competencies of minority organizations and assists governments in building institutional capacities to develop and implement policies on national minority issues.
Read more
---
ACICC is the Georgian based non-profit organization which was founded in 2012. It gathers professionals working in research and analytical fields. ACICC has experience of undertaking research and organizing educational projects at domestic and international level. Its essential goals are to empower minority groups with effective tools, facilitate multifold dialogue and bridge stakeholders to each […]
Read more
---
Disclaimer
This website is funded by the

and the

About the programme
Together with partners, we aim to establish a regional network for organizations working on minority issues by building the capacity of minority organizations in the region to undertake effective human rights advocacy at national and European level, in particular ensuring the full participation of minorities in the Eastern Partnership (EaP) process.
More information about the programme
.
Contact
Minority Rights Group Europe
c/o NEKI 68 Ulloi Ut
Budapest, H-1082 Hungary
Tel: +(36)-1-327-7032