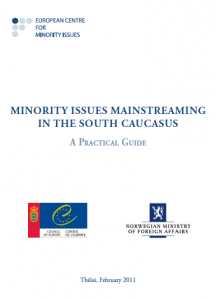 Minority Issues Mainstreaming in the South Caucasus
A Practical Guide
This practical guide is designed as a training toolkit and reference collection that can be used by national and international organizations as well as government and other stakeholders for project development in the South Caucasus. It provides an overview of issues pertaining to ethno-national minorities in the region .
It is divided in three sections. The first one is designed to familiarize the reader with concepts, standards, and mechanisms for the protection of minorities in Europe. All the three countries of the South Caucasus region – Armenia, Azerbaijan, and Georgia – are members of the Council of Europe and have ratified at least one of the treaties related to minority protection and are, therefore, under legal obligation to follow European standards in this regard.
Section two provides an analysis of minorities needs in the three South Caucasus countries, including the territories beyond the control of the central governments: Armenia, Azerbaijan (including Nagorno-Karabakh), and Georgia (including Abkhazia and South Ossetia).
The third section takes the reader on a step-by-step guide to mainstreaming minority issues into the project cycle.
Finally, this guide also provides a glossary of commonly used terms and phrases explains the terminology and meaning of languages used in the area of minority rights and issues.