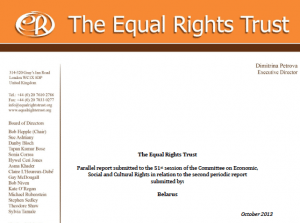 Parallel report submitted to the 51st session of the Committee on Economic, Social and Cultural Rights in relation to the second periodic report submitted by: Belarus
This parallel report focuses on the extent to which Belarus has met its obligations to respect, protect and fulfil the rights to equality and non-discrimination. The submission is concerned with Belarus's performance under Article 2(2) of the International Covenant on Economic, Social and Cultural Rights, and with the impact which discrimination has on the enjoyment of economic and social rights protected by the Covenant.
This report is divided into two parts. The first analyses the existing legislative framework related to equality in Belarus and highlights a number of gaps, weaknesses and deficiencies such that it does not meet the standards required by Article 2(2) of the Covenant. The second examines a number of rights protected under the Covenant where discrimination results in the denial of their effective enjoyment by different groups of persons in Belarus. Some recommendations are issued according to the Equal Rights Trust's research in order to address discrimination and inequality in Belarus.