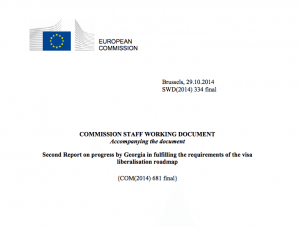 Second Report on progress by Georgia in fulfilling the requirements of the visa liberalisation roadmap
This document is the second Progress Report on the implementation by Georgia of the Visa Liberalisation Action Plan (VLAP). It provides a detailed analysis of the most relevant developments relating to the implementation of the so-called first phase VLAP benchmarks concerning the policy framework (legislation and planning). It also includes an assessment of possible migratory and security impacts on the European Union (EU) of the future visa liberalisation for Georgia.
According to this assessment, the first phase of the implementation of the VLAP in Georgia has been successfully completed.