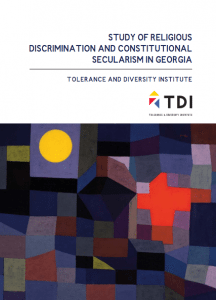 Study of Religious Discrimination and Constitutional Secularism
This study shows the lack of religious neutrality in the public sphere in Georgia and therefore how personal religious convictions of politicians interfere with policy-making, thus promoting a discriminatory policy towards the religious minorities at the demand of majority, which takes form of flagrant violation of religious organization and preferential treatment towards the Georgian Apostolic Autocephalous Orthodox Church.
The analysis of the legal framework and administrative practices for protection of religious freedom demonstrates, that there is a whole range of problems from the perspective of prevention of religious discrimination  in the tax and customs legislation, basic and high education legislation, Law of Georgia on State Property, mandate of the State Agency of Religious Affairs and in the rule of compensation of damages inflicted by the Soviet Union. However, the most acute problems posing religious minorities are emanated not by normative acts, per se, but the behavior of the public officials in different areas, be it construction permission process, enforcement of criminal or administrative justice on the facts of religiously-motivated offences or restitution of ownership on the property taken away in the Soviet period, particularly on religious buildings.