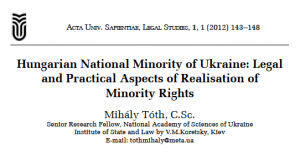 Hungarian National Minority of Ukraine: Legal and Practical Aspects of Realisation of Minority Rights
The Hungarian community which lives in Ukraine transformed into a national minority as a result of the creation of a series of nation states on the territory of the former Austro-Hungarian Monarchy after World War I. The Hungarian minority in Ukraine is relatively small (156.2 thousand people) but at the same time a regional national community (92% live in the Transcarpathian region) and the least integrated (assimilated) minority (95,4% of Hungarians think that their mother tongue is the language of their nationality). Despite the fact that this minority is one of the most active and successful in the rate of realisation of its rights, anxiety and concern in the Hungarian community are the negative trends which describe the socio-economic and political-cultural situation in Ukraine.
Colophon
Author: Mihály Tóth, C.Sc.
Date of publication: 2012
Total number of pages: 6
Language: english
Link: Publication URL
---
Download PDF:
---