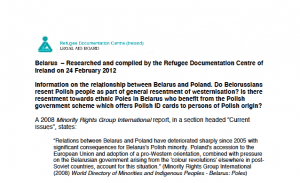 Information on the relationship between Belarus and Poland
This briefing tries to answer questions on Belarus-Poland relations (and the Polish minority in Belarus) through a compilation of extracts form reports.
Do Belorussians resent Polish people as part of general resentment of westernisation? Is there resentment towards ethnic Poles in Belarus who benefit from the Polish government scheme which offers Polish ID cards to persons of Polish origin?
Colophon
Author: Refugee Documentation Centre
Date of publication: 02/24/2012
Total number of pages: 4
Language: english
Link: Publication URL
Type: Brochure
---
Download PDF:
---
Themes
Keywords